Smart 3D Benchmark for MS Windows 11, 10, ... etc. and MS Server OS!

Update on: 18 August 2023
Suitable for : Windows 11, Windows 10, 8.1, 7, ... , Server 2012-2019, 2022, x64, x32, x86

The 3D.Benchmark.OK is a small but nice 3D benchmark for all Microsoft Windows operating systems, from the ... category 3D tools !
Even as a small 3D.Benchmark.OK it is still an effective 3D benchmark, with which you can test the graphics card well, a benchmark does not have to be very large or ugly to test and load your graphics card!

Especially with newly purchased graphics cards or after installing a new driver, you can compare the values ​​to determine whether there is a performance gain, the test only takes 65 seconds, or you just start the autopilot to detect any jerking in the display!

In order to be able to test weaker graphics cards smoothly, there is the render option: low, medium and high, in order to get a smooth gradient even with INTEL HD 2000 or Nvidia GT 610/310, ... etc., with the anti aliasing option but you can also push the flagship graphics card to its limit!

After the benchmark, you can compare the values ​​on the Internet with other graphics cards to determine whether there are serious deviations!



The key functions in 3D.Benchmark.OK

◆ Quick start and detection of the hardware
◆ Changeable benchmark level
◆ Adjustable anti-aliasing 
◆ Wind, water, light refraction, reflection, ... 

During the development I was inspired by the pleasant landscape of Far-Cry 2004, DOOM would have been optically too aggressive. So it is optically a Caribbean feeling, crossed with the Grand Canyon, so a virtual fantasy landscape!



(Image-1) 3D.Benchmark.OK for Windows based on OpenGL!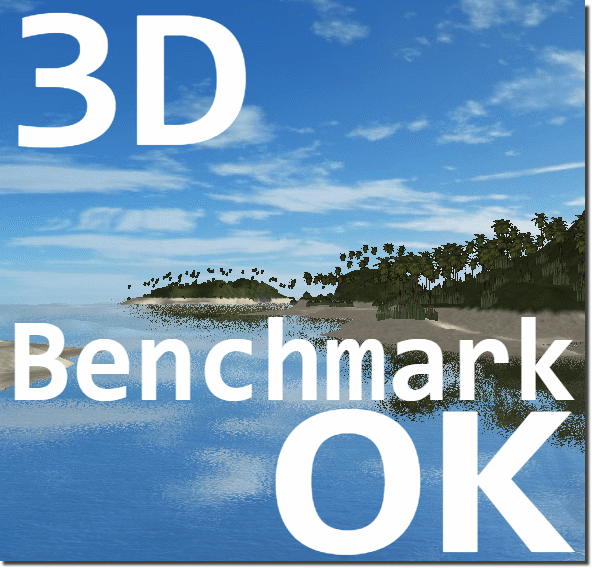 2.) How the test works!
"The Gran Caribbean Canion Isola" is a fantasy landscape with 4 x 4 kilometers!  

In the high mode, 60 million triangles are used, with medium 15 and low 2, only the visibility of the triangles is determined, then all tasks are transferred to the GPU, there is no reduction so that the maximum load on the graphics card is guaranteed. When mirroring, the number doubles!  
So the palm trees, grass, ... etc, at a distance of 4 kilometers are not reduced, the distant objects are drawn quite normally with all their triangles and reflections. Wind simulation, ...! (
... see picture-2 point 1
) it is difficult for me not to optimize at this point, but this is about a decent load on the GK
The load factor
at: High 16 / Medium 4 / Low 1 (as an example: 10 / 40/160 FPS) The medium landscape is the basis. At high, additional objects are generated on 60 million triangles.
Suitable examples: 
Low: Intel HD 2000/500, ATI hd 5450, Nvidia GT 310, ...  
Medium: Intel HD 4000, ...
High: GTX 650, 750, ....
At high, the currently fastest graphics cards achieve ~ 250 FPS
(Image-2) 3D.Benchmark.OK for Windows based on OpenGL!


3.) Installation or portable?
For portable use, add  a "_p" to the 
execution
file, so it becomes a portable application, practical for use on a 
USB stick
!
After 
downloading 3D.Benchmark.OK
 you can simply place it from the zip folder on the desktop, with less than ~ 2 MB it is no burden! As a zip file, it fits on a
floppy disk
!
(Image-3) 3D.Benchmark.OK portable and not portable!






# 3D.Benchmark.OK Versions History


New in version 2.01 // 18 August 2023
New code sign certificate for 3D.Benchmark.OK.exe
Important tests of 3D benchmark for the next MS Windows 11/10 update
Update of language files in 3D benchmark



New in version 1.77 // 18 November 2022
Verification and testing of the 3D benchmark on Windows 11 22H2
General corrections and small fine adjustments in the 3D benchmark for Microsoft Windows



New in version 1.51 // 6 June 2022
Improvements and display bug fixes for various AMD and NVIDIA graphics cards
Better detection of OpenGL support and OpenGL version
Update of the language files in the 3D benchmark for all MS Windows OS



New in version 1.44 // 30 April 2022
Optimization for integrated AMD Vega CPU graphics cards
Small bug fixes for different graphics cards



New in version 1.41 // 11 December 2021
Bug-Fix:occasional crash on some operating systems with Intel CPU / GPU
Small improvements in the x64 version of the 3D benchmark




... complete Versions History




# 3D.Benchmark.OK is multilingual and a popular program worldwide:



Program Keys:


* Smart 3D Benchmark for MS Windows 11, 10, ... etc. and MS Server OS!
---
Thanks+