It's easy to remove ants from your Windows 11, 10, ... etc. desktop PC, notebook, tablet or laptop!
1.) How do I uninstall 12-Ants?
Uninstall function via ► Main menu ► Extras ► More ► Uninstall (12-Ants)
(... see Image-1 Point 1 to 3)

OR:
If 12-Ants is running, close the program 12-Ants!
(... see Image-1 Point 4)

Please uninstall regularly via ► Control Panel and ► Program and functions!

Please also read this: Uninstalling installed programs in Windows 10, how can I ?

Please always use ... the latest version of 12-Ants !

By default, 12-Ants.ini is created in the %APPDATA%/12-Ants folder.

For portable use, please create or copy to the 12-Ants working directory of 12-Ants.ini.

Or run a portable installation (portable_install)!



(Image-1) Remove the annoying vermin from the Windows PC!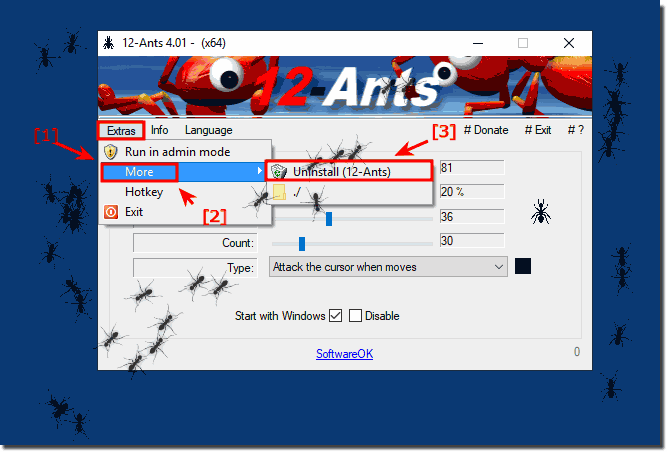 2.) Still problems with the insects on the desktop?
What can I do if I still have problems with the bugs and insects on the desktop is a frequently asked question. Restart the Windows operating system, please
perform a proper Windows reboot
.
If the problem with the ants persists on the desktop, repeat step 1: How do I uninstall 12-Ants ?


If necessary, simply reinstall the program over the existing installation and repeat the instruction point 1:
►► 
How do I uninstall 12-Ants?
FAQ 1: Updated on: 24 July 2021 09:02