If the Internet connection is not available, you can also activate the Windows-10 or optionally by phone!




If online activation is not possible, you can use the option "Use an automatic telephone system".

If the Windows 10 Activation Wizard is not started, you can start the command prompt in administrative mode .You need to know how to activate Windows 10 by phone (telephone, smartphone, iphone).

 

Content:

1.) Start phone Activation and Select the Country! 

Optional you can use Windows+R keyboard shortcut key and enter also the SLUI 4 command.

The Windows 10 Product Activation Wizard appears.




(Image-1) Activate Windows 10 via phone!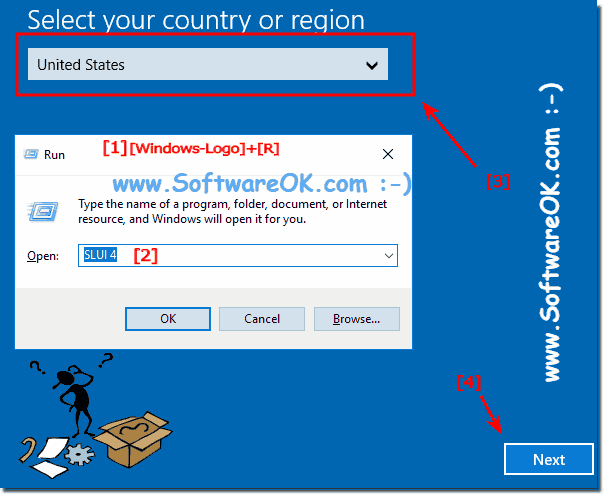 2.) The confirmation ID for the phone system!

Call telephone number for activation of Windows-10. And pass the ID by phone and follow the instructions on the phone. It is quite tedious procedure but has always worked. The total time is about 2-3 minutes.

(... see Image-2)



(Image-2) Windows 10 by phone activation!


Using Windows 10 Activation, you can ensure that your copy of Windows 10 is a genuine copy and is not used on more than one machine as permitted by the Microsoft Software License Terms. In this way, activation helps to prevent software counterfeiting.
......

3.) By problems on Windows 10 when want to activate via phone!
On some Windows 10 Systems disable internet connection or unconnected the LAN Cable!  







FAQ 211: Updated on: July 15th 2018 17:50